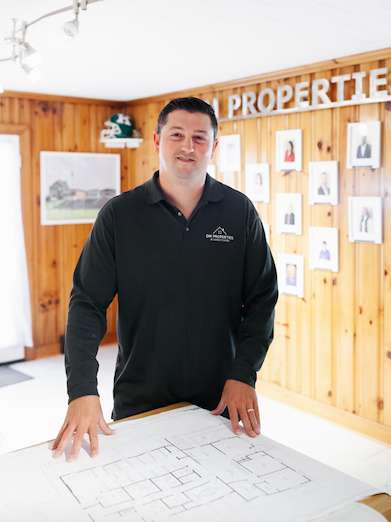 Drew Maher got his first taste of real estate through taking a shot at flipping a house - he had been doing construction work for some time, and thought it sounded like a good thing to try. As it turns out, real estate quickly became a full-time career for Drew as people from his community in Kannapolis, NC, where he grew up, started to seek him out to help them with their real estate needs. Now, Drew is the Owner/Broker - in - Charge of his own real estate firm, DM Properties & Associates, and has established a reputation as a prominent Realtor in his area of North Carolina.
When it comes to interacting with clients, Drew prioritizes getting to know the client's needs. His primary objective throughout his work is to get the best possible results for his clients based on their goals, and he accomplishes this by asking smart questions and seeking to understand. "Coming to understand each other gives everyone involved confidence throughout the transaction that we are all working towards the same goal. I ensure my clients know I will be there long after the transaction as a trusted friend and resource," Drew says. "I've really noticed that folks appreciate that they can reach out to me beyond the transaction for whatever the need may be, which has led to a strong referral base for myself and the agents in my firm."
As a lifelong resident of Kannapolis, Drew is intimately connected with the culture and real estate landscape of his community. His experience with the local market is second to none, and he leverages that information to maximize the value his provides to clients. "Through working in Kannapolis, I have the unique opportunity to improve the market in the area where I grew up," Drew says. "I'm working and interacting with people 've known my whole life, and I love every minute of it." On top of his expertise with his locale, Drew has an extensive background in construction, and is well equipped to tackle a wide variety of problems that might arise during a real estate transaction.
Drew's flips create listings that the agents in his form are able to market to help grow their businesses. He has a marketing Director in his firm who makes sure each property reaches maximize exposure across multiple platforms, including Facebook, Instagram, and YOuTube, as well as their company website, and an in-house transaction coordinator that ensures the process goes smoothly from contract to closing. In addition to professional photography and staging, almost every listing has two agents assigned to it which is an added value for DMP clients.
In his free time, Drew enjoys taking in baseball games in the DM Properties box suite at Kannapolis Cannon Ballers Stadium, and spending time with his family around their home. He has long been involved in his community, and supports several local organizations, including Kannapolis Youth Athletic Programs, Dream On 3, and the local high school that he attended. In the future, Drew hopes to grow his team slowly and organically and allocate more of his time to train newer agents in his firm to provide the highest quality service possible. If you're looking for a Firm/Realtor in NOrth Carolina who is community-oriented to their clients, get in touch with Drew Maher or any of the wonderful agents at DM Properties & Associates.